Firehouse is on fire...
Silkscreen masters Chuck Sperry and Ron Donovan of Firehouse, recently did a show at Ogilvy in San Francisco on June 4th, where they also screened a special "American Artifact" pre-release clip.
This was a rare opportunity to visit ad agency Ogilvy's art gallery (usually only available to employees and clients), and to check out Ron and Chuck in action. Reportedly, a rockin' good time was had by all...!
Ogilvy visited Chuck and Ron at their studio before the show - Check out their pictures: http://dev.ogilvywest.net/nextshow/behind-the-squeegee-at-firehouse/
Firehouse will also be hand silk screening John Van Hamersveld's official poster for the TRPS "Rock Art By The Bay" poster this week, the event at which "American Artifact" will be world premiering at next week: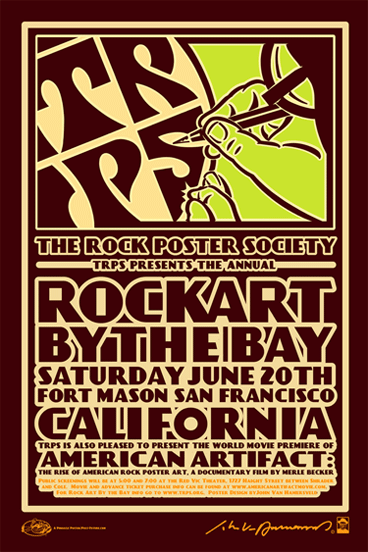 Fore more info on Firehouse, check out their video at:
http://www.AmericanArtifactMovie.com (under MOVIE POSTERS).
And, read a little more about them here:
http://www.juxtapoz.com/index.php?option=com_events&task=view_detail&agid=1491&year=2009&month=1&day=16&Itemid=125